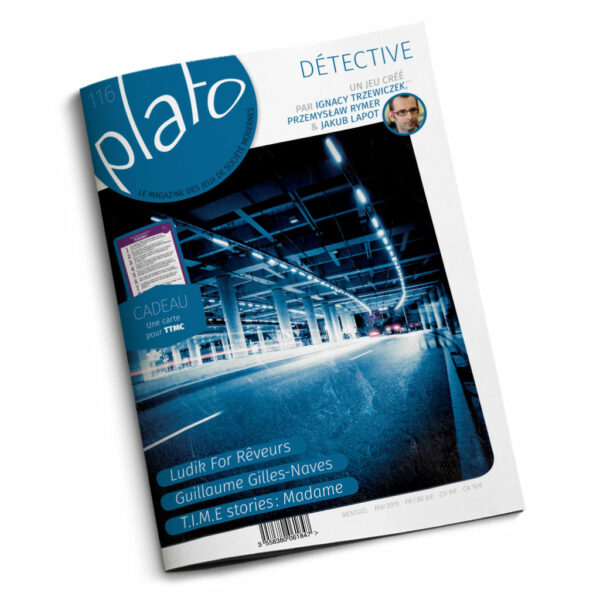 Plato 116 Mai 2019
8,50€ TTC
Goodies: Une carte pour TTMC ?.
Rupture de stock
Description
Description
1 carte pour TTMC ?.
Jeux
Détective (Iello)
Samsara (Oka Luda)
Cool Runnings (Ravensburger)
Orbital (DMZ Games)
Space gate odyssey (Ludonaute)
Unearth (Brotherwise Games, Asmodee)
Kepler 3042 (Renegade)
Tales of glory (Ankama)
TV Show (KYF Édition)
Mu (Bankiiz Éditions)
Franchise (Queen Games)
Cerbère (La Boîte de jeu)
Cuzco (Super Meeple)
Just one (Repos Production)
The boldest (Editions Spielwiese)
Dégoblinade (Exod Games)
Railroad ink (Horrible Games)
Itchy Monkey (Black Box Adventures)
Set & Match (Ecosport)
Blue lagoon (Blue Orange)
Cat lady (Edge)
Peppers of the Caribbean (White Goblin Games)
Sunny day (Ludicorn)
Winston (Helvetiq)
Tutti Frutti
Les jeux, c'est du sérieux: Paranoïa, mon amour
Le jeu de Plato: CapColor
Casse-tête: Brain Connect
Extension: Arthur
Déclinaison: One Deck Dungeon
Bizarrerie: Guardians of Legends
Extension: Armada
Rencontres
My ludo
Guillaume Gilles-Naves
Olivier Mahy
Ignacy Trzewiczek
Divers
Dossier: Le quatrième mur
Retour sur: T.I.M.E Stories: Madame
Fond de l'armoire: Cosmic Encounter
Sortie de table: Ludik for ever
Information additionnelle
Informations complémentaires
Poids
0.235 kg
Dimensions
29.7 × 21 × 0.5 cm
Distribution

France : Asmodee
Reste du monde : Megalopole

Goodies

1 carte pour TTMC ?.